---
Posted on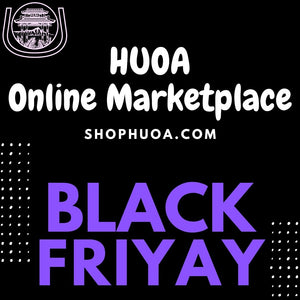 BLACK FRIYAY DEALS UP TO 75% OFF NOW THROUGH MONDAY, NOVEMBER 29, 2021 SALE HIGHLIGHTS: In4mation T-shirts Past Festival T-shirts HUOA Logo Aprons HUOA '21 Bon Dance Towels Select Books Uchinanchu Annuals - - - SHOP IN PERSON AT HUOA's WINTER CRAFT FAIR!!! HUOA Winter Craft Fair                                                                 Saturday & Sunday, November 27 & 28, 2021                            ...
---
Posted on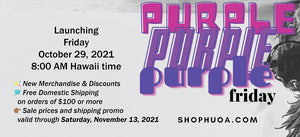 HAPPY PURPLE FRIDAY!!! FREE DOMESTIC SHIPPING ON ORDERS OF $100 OR MORE - USE CODE PURPLE2021 AT CHECKOUT. New Merchandise Highlights: Uchinanchu No Hi T-shirts & Tank Tops HUOA 70th Anniversary Tote Bags Emi Ink Bingata Note Cards, Decals and Okinawan-inspired Holiday Cards Sale Items: 30% off HUOA Embroidered Polos 20% off Uchinanchu Name T-shirts 30-50% off Bon Dance Towels 30-50% off Uchinanchu Annuals 20% off Plantation Ice Tea Tumblers 50% off HUOA Logo Masks Sale prices and free shipping promo valid now through Saturday, November 13, 2021. - - - We are currently working on another HUOA x In4mation...
---
Posted on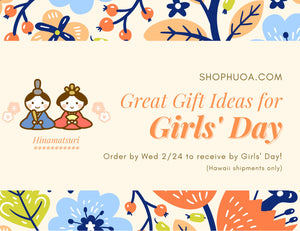 Great Gift Ideas for Girls' Day (Hinamatsuri)  + New Item Alert: Okinawan Princess book + Highlight on Monday Crafters   Check out our great gift ideas for Girls' Day (Hinamatsuri is on 3/3).  Place your order by Wednesday, 2/24 to receive your shipment by Girls' Day (applicable to Hawaii shipments only).   Now selling the book Okinawan Princess: Da Legend of Hajichi Tattoos, written by Lee Tonouchi.  The book features illustrations by Laura Kina and Japanese & Okinawan translations by Masashi Sakihara.  Order by Wednesday, 2/24 to receive 25% off (regular price: $20.00), books will start shipping from Friday, 2/26.  ...